Full Day Bali Uluwatu Tour
Bali Uluwatu Tour is an exciting tour to visit Uluwatu Temple, the amazing Hindu temple on the cliff bank with the deep rocky beach under its. The temple is blessed with the breathtaking view of the Indian Ocean and sunset as backdrop. Bali Uluwatu Tour will visit Garuda Wisnu Kencana Cultural Park planned to be established a landmark or Bali mascot, in the form of a giant statue, Beautiful Padang – Padang Beach is one of the best white sand beaches, Visit Uluwatu Temple is amazing temple sits on 70 meter protuding cliff with some group monkey nearby, watching Kecak and Fire Dance is a Balinese dance takes story from fragment Ramayana, and then enjoy the delicious seafood dinner at Jimbaran Bay Beach. our professional english speaking driver with private full air-conditioning car transfer to complete your enjoyable on your holiday in Bali.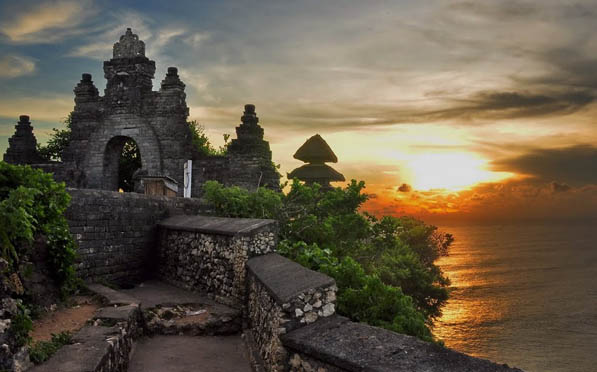 The Places of Interest will be visited on Bali Uluwatu Tour :
GWK Culture Park is one interesting place with big statue of Lord Vishnu and international event facilities beautifully designed located on the white stone hill of Jimbaran. Garuda Wisnu Kencana is a prestigious project built in Bali with a statue 150 meters tall and width 64 meters. This tourism area shall become a center of International events that has been serving the international events, daily Balinese performances, exhibition, restaurants and others. GWK Culture Park is located on Jl. Raya Uluwatu,only 25 minutes away from Denpasar airport or Nusa Dua.
Padang – Padang Beach is located in Unggasan Village, South Kuta District, Badung Regency. This beach is situated in the white stone hill that blessed by the breathtaking view to the Indian Ocean and spectacular sunset in late afternoon. This beach is only 25 minutes away from Kuta airport or 10 minutes from Jimbaran Beach
Uluwatu temple is one of Bali sad kahyangan jagat (directional temples) and guards Bali from evil spirits Bali's most spectacular temples located high on a cliff top at the edge of a plateau 250 feet above the waves of the Indian Ocean. Uluwatu lies at the southern tip of Bali in Badung Regency. Dedicated to the spirits of the sea, the famous Pura Luhur Uluwatu temple is an architectural wonder in black coral rock, beautifully designed with spectacular views. This is the most popular place to enjoy the sunset and surfing spot .Monkeys inhabit the temple and cliff face hoping for a banana or some peanuts from the visitors.
the Kecak dance is perhaps the most dramatic dance in Bali,taken from the Hindu epic Ramayana, the dance tells the story of Prince Rama and his rescue of Princess Sita, who has been kidnapped by the evil King of Lanka.What makes Kecak dance special is bodies, the only music to accompany them are the beats of their palms hitting their chests, their thighs, or other parts of their bodies, or their claps, rhythmically accompanied by shouting and chanting. Flickering torches provide lighting and an enchanting atmosphere.
One of best things to do when on holiday in Bali is to eat grilled fish on the beach at Jimbaran Bay in the evening. Though not the bargain it once was, visitors love it because its a unique experience. When you mention the word 'Jimbaran' anywhere in Indonesia and people often will make the connection with grilled seafood. The bay itself has a pleasant white sand beach and is very safe for swimming.
Bali Uluwatu Tour Itenerary
11:00 – Pick up at the hotel
12.00 – Visit Garuda Wisnu Kencana
13.30 – Visit Padang – Padang Beach
16.00 – Visit Uluwatu Temple
18.00 – Watch Kecak Dance Performance
19.00 – Enjoy fresh Seafood dinner at Jimbaran
20.30 – arrive at hotel
21.00 – arrive at hotel
Bali Uluwatu Tour Price :
Regular Tours Price :
IDR 500k/car ( max 6 person)
Inclusion : Car + Gasoline + English Speaking Driver + Parking fee + mineral water
Note:
Minimum booking 2 persons.
Tour duration between 8-10 hours
Get special price for group booking
Regular Tours Price : is a Bali day tours price without include lunch or dinner and entrance fee, you need to pay by your own self
The tour is Private Tours, means there is no other participant, just only you and your companion
Tour Guide can be requested, contact us if you want to request Tour Guide during the trip Time and Tourism site is subject to change based on your request.