GWK – Garuda Wisnu Kencana Cultural Park Bali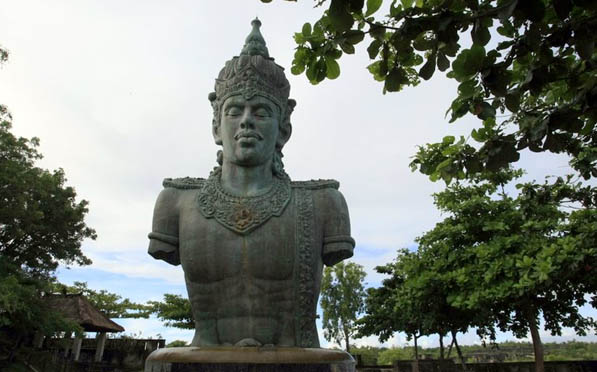 Bali day tour Gwk cultural park
GWK Culture Park is one interesting place with big statue of Lord Vishnu and international event facilities beautifully designed located on the white stone hill of Jimbaran. Garuda Wisnu Kencana is a prestigious project built in Bali with a statue 150 meters tall and width 64 meters. This tourism area shall become a center of International events that has been serving the international events, daily Balinese performances, exhibition, restaurants and others. GWK Culture Park is located on Jl. Raya Uluwatu,only 25 minutes away from Denpasar airport or Nusa Dua.
Garuda Wisnu Kencana is a massive, unfinished statue in Bali that currently exists in pieces. Built the Balinese artist Nyoman Nuarta, the statue (if completed) would depict the Hindu god Vishnu (or Dewa Wisnu, as he is known by the Balinese) riding aloft on his winged mount Garuda.
If completed, the statue will rise 479 feet above the ground, taking first place in the world's tallest-statues contest (compare it to the Statue of Liberty which stands 151 feet). About 4,000 tons of brass and copper will be used When completed, the statue will use
Garuda Wisnu Kencana (GWK) Bali Facilities :
Lotus Pond surrounded by stone pillars and rock background Garuda bird statue's head with a capacity of 7500 people made ​​the area is ideal for a variety of grand performances, both national / international.
Plaza Wisnu art shop selling various Balinese handicrafts.
Exhibition Hall space to hold exhibitions.
Amphitheatre with a capacity of 800 seats and first-class acoustic arrangement is performance art.
Street Theatre is an outdoor stage for music concerts, fashion shows and other performances.   "Jendela Bali" Restaurant with panoramic of Jimbaran Beach.
Garuda Wisnu Kencana cultural park  idea
Balinese statues suppose to be the biggest statue in the world but unfortunately it hasn't finished yet. Since financial problem happened in 1997 in Indonesia.