Bali Uluwatu Temple Day Tour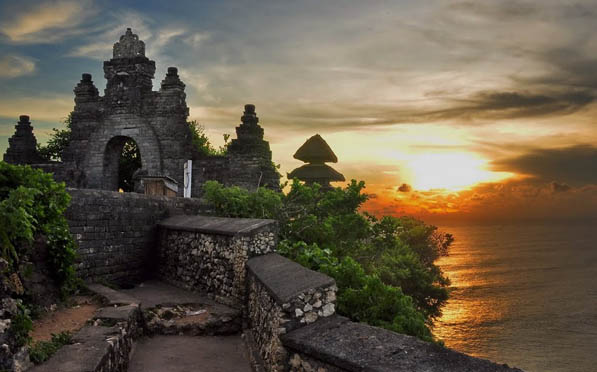 Sunset at uluwatu temple
You may get Uluwatu temple tour either in one full day tour or half day tour. Uluwatu temple is one of Bali sad kahyangan jagat (directional temples) and guards Bali from evil spirits Bali's most spectacular temples located high on a cliff top at the edge of a plateau 250 feet above the waves of the Indian Ocean. Uluwatu lies at the southern tip of Bali in Badung Regency.
Dedicated to the spirits of the sea, the famous Pura Luhur Uluwatu temple is an architectural wonder in black coral rock, beautifully designed with spectacular views. This is the most popular place to enjoy the sunset and surfing spot .Monkeys inhabit the temple and cliff face hoping for a banana or some peanuts from the visitors. If you want to see all that beaty you may join the Uluwatu temple tour.
Uluwatu temple history
In Lontar (Bible made from palm leave) of Usana Bali is mentioning that Mpu Kuturan (a holy priest from Java Island spread out the Hinduism in Bali) who had built many temples in Bali including Uluwatu Temple. Mpu Kuturan is identically considered with Senapati Kuturan, a historical figure who lived during the reign of Udayana King, Marakata and Anak Wungsu in the 11 century. He is one of the public figures who joined in the institution of king advisor. According with this Lontar, then the construction of Uluwatu Temple is preceded by Mpu Kuturan in the 11 century.
The Balinese Hindus believe that the three divine powers of Brahma, Vishnu, and Siva become one here. That belief results in making Uluwatu Temple a place of worship of Siva Rudra, the Balinese Hindu deity of all elements and aspects of life in the universe. Pura Uluwatu is also dedicated to protect Bali from evil sea spirits.
Uluwatu temple entrance fee
It isn't difficult to find the Uluwatu Temple where you can reach it by any kind of vehicles. There is a good road passing Jimbaran countryside and go the one way to this temple. Uluwatu is one of the most beautiful Hindu Temple and famous in Bali Island. The Uluwatu temple tour entrance fee is IDR 20.000.