Kecak Dance Uluwatu Bali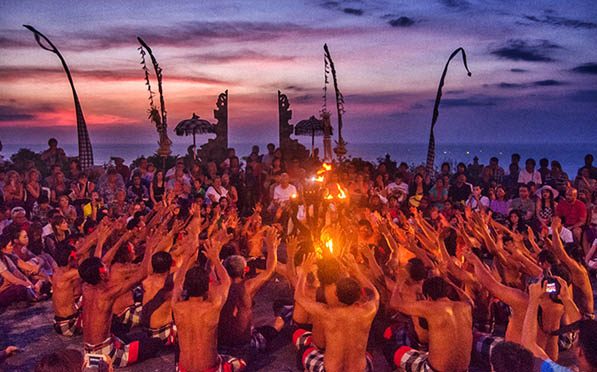 Uluwatu kecak dance
The Kecak dance in Uluwatu temple is perhaps the most dramatic dance in Bali,taken from the Hindu epic Ramayana, the dance tells the story of Prince Rama and his rescue of Princess Sita, who has been kidnapped by the evil King of Lanka.
What makes Kecak dance special is bodies, the only music to accompany them are the beats of their palms hitting their chests, their thighs, or other parts of their bodies, or their claps, rhythmically accompanied by shouting and chanting. Flickering torches provide lighting and an enchanting atmosphere.
Kecak dance in uluwatu schedule
Another unique factor is that the Kecak Dance is also the only dances that was created for the sole purpose of entertaining foreigners. It is almost never watched by the Balinese in their villages. Uluwatu temple Kecak dance is always performed just before sunset. The Kecak dance uluwatu schedule is from 6-7 pm.
As the drama unfolds, the scene is cast in the last rays of the sun when its orb slowly disappears behind the glowing horizon of the sea. The story continues into the darkness of nightfall as dancers are dramatically lit only by the light thrown from the flames of torches casting long shadows
Bali Kecak dance Uluwatu ticket
Kecak Dance was originally a trance ritual performed by a male chorus. In the 1930's, the German painter and musician Walter Spies took a deep interest in the ritual while he was living in Bali. He then worked together with Balinese dancer Wayan Limbak to recreate it into a drama, combining themes and movements from the traditional Sanghyang exorcism rituals with portions of the Hindu epic, Ramayana. The intention was to create a dance that was both authentic to Balinese traditions, yet appealing to a Western audience. Bali kecak dance uluwatu ticket is IDR 100.000.