Full Day Bali Kintamani Volcano Tour
Kintamani Tour is one of the best Bali Full Day tour to visit Kintamani with breathtaking view of an active volcano and lake. The tour also offering you the wide opportunity to see the beautiful handicraft in Bali which is made by local people to bring home for your souvenir.We pick you up at 08.30 am visiting Batubulan – watch Barong Dance – Celuk – Goa Gajah – Kintamani – Tirta empul temple – Gunung kawi, tour finish and come back to hotel 5.00 pm. our professional english speaking driver with private full air-conditioning car transfer to complete your enjoyable on tour.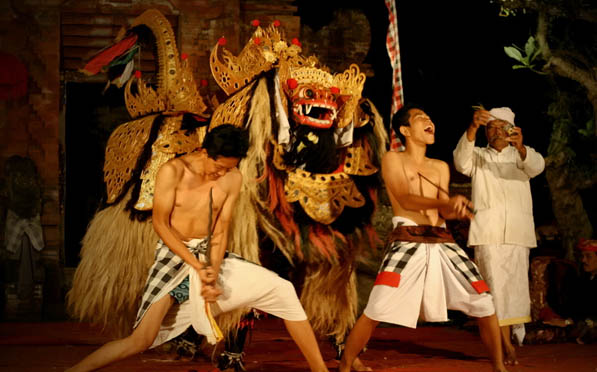 The Places of Interest will be visited on Bali Kintamani Volcano Tour :
Nowdays Batubulan village is one of tourist places and destination in Bali, it is popular with barong dance and stone carving .It is about 8 km from Denpasar. Batubulan had been known since a long time by the tourists because it's handicrafts namely statues that made of sand stone. It can be seen along the road of Batubulan. The identity and image as an art village, Batubulan has been famous in Indonesia and all over the world which has been built based on an artistic blessing dance of Barong (Barong and Keris dance). Barong Dance is daily performed at five different stages in this countryside, like Puseh Temple Stage, Tegal Tamu Stage, Denjalan Stage, Sahadewa Stage and Sila Budaya Stage.
The village of Celuk, located approximately 4km southwest of the Sukawati District, is also Bali's major centre for goldsmiths and silversmiths,The main road of Jalan Raya Celuk is lined up with galleries and workshops. The gold and silver items crafted here are of high quality and feature unique and elaborate designs as the craftsmen are known for their skills .Almost all of the households in the village are homes to jeweller families and each Celuk villager possesses artistic skills in developing and executing intricate designs and varying patterns.The gold and silver items they produce include souvenirs and mass export items such as rings, bracelets, necklaces, earrings, studs, broaches and many other Balinese ceremonial accessories and adornments.
Goa Gajah temple is one of beautiful place to visit best known for its ancient caves that have a carved stone that are distinctively recognizable as being elephant shaped, located in west side of Bedulu village ,Gianyar Regency. It is about 27 km from Denpasar town. It owns the magical energy on the basis of Rwabineda Concept/two different matters on this basic concept hence Gua Gajah (Elephant Cave) is intentionally built among two rivers,Pangkung River and Petanu River. The cave was discovered by Department of Archeology in 1923, and the complex of water spout was discovered by Dr. Krijgsman, a Dutch archeology.
Kintamani Volcano is one of interesting place to visit with beautiful mountain and lake view in Bali. Kintamani is located in the village of Batur, Kintamani, Bangli Regency. Batur Region Tourism is at an altitude of 900 m above sea level with air temperature during the cool air. It is about 23 miles to reach this location from the capital city of Bangli .
Tirta Empul Temple is a holy spring water temple located in Tampak Siring Village, Gianyar regency and it is about 15 km eastwards from Ubud town.In the west side of this temple, there is an Indonesian President palace which has been built by the first president. Pura Tirta Empul is located in the village of Tampak Siring, accessible by public transportation from Ubud. The souvenir stands outside the temple specialize in the local craft, carved bone jewelry.
Gunung Kawi Temple is located near Tampak Siring village, around 5 km from well known Tirta Empul Temple. The location is 35 km from Denpasar, city, 50 km from Kuta, and 68 km from Nusa Dua. Gunung Kawi Temple is a collection of ten candi, created to evoke the appearance of temple fronts and designed to provide residence for the souls of ancient kings. The candi are hewn into the valley walls on both sides of the Pekerisan River
Bali Kintamani Volcano Itenerary
08:30 – Pick up at the hotel
09.30 – Watching Barong and Kris Dance at Batubulan village
10.30 – Visit Celuk village to see gold and silver work
11.00 – Visit Goa Gajah temple/ elephant cave
12.00 – Visit Kintamani with Batur Volcano and Lake
12.30 – Enjoy lunch at local restaurant in Kintamani
14.00 – Visit Tampak Siring/Tirta Empul Temple
15.00 – Gunung Kawi temple
16.00 – Back to hotel
17.00 – Arrive at hotel
Bali Kintamani Volcano Tour Price :
Regular Tours Price :

IDR 500k /car ( max 6 person)
Inclusion : Car + Gasoline + English Speaking Driver + Parking fee+ mineral water

Inclusive Tours Price :

IDR 500k /person
Inclusion : Car + English Speaking Driver + Ticket Barong Dance Performance + Entrance Fee + Lunch
Note:
Minimum booking 2 persons.
Tour duration between 8-10 hours
Get special price for group booking
Regular Tours Price : is a Bali day tours price without include lunch and entrance fee, you need to pay by your own self
Inclusive Tours Price : is a Bali day tours price with include lunch and entrance fee
The tour is Private Tours, means there is no other participant, just only you and your companion
Tour Guide can be requested, contact us if you want to request Tour Guide during the trip Time and Tourism site is subject to change based on your request.