Bali Day Tour to Tirta Empul Temple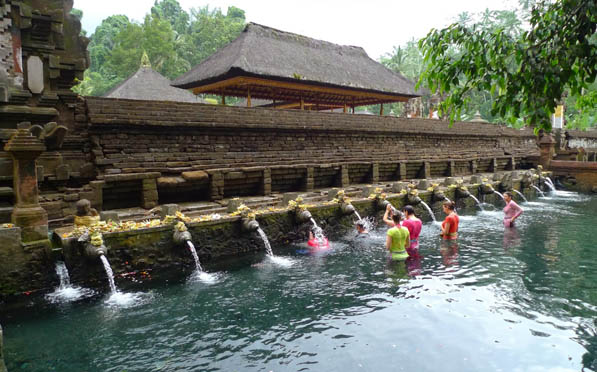 Tirta empul temple location
Tampak siring temple or commonly called Tirta Empul Temple is a holy spring water temple located in Tampak Siring Village Bali, and it is about 15 km eastwards from Ubud town. In the west side of this temple, there is an Indonesian President palace which has been built by the first president. Pura Tirta Empul is located in the village of Tampak Siring, accessible by public transportation from Ubud. The souvenir stands outside the temple specialize in the local craft, carved bone jewelry.
The name of Tirta Empul is loaded in a inscription which is kept at Sakenan Temple, Manukaya village, Sub district of Tampak Siring, about 3 km from Tirta Empul Temple. In this inscription, the Tirta Empul is named by the Tirta Ri Air Hampul and then the name has changed into Tirta Hampul and finally become the Tirta Empul. Tirta Ri air hampul is meaning the water emerge or the holy pool (Petirthan) which is the water emerge from the land.
Situation of Tirta empul temple Bali
The whole area of Tirta Empul Temple is divided into 4 areas. At the most outer area we will find a shrine where the worshippers usually do their offering, it's a kind of permission to enter the temple area. Then the second area is the area where we can find a big hall where the people prepare themselves before taking bath at the holy showers area- there are a dressing room, chambers, showers etc.. – next area is the holy showers area with several chambers – and several areas with showers in- and outside.
It is some kind of purification procession in both pools in this area – considered to be the main Tirta Empul shower. The inner most chamber is closed and locked for public. It only can be entered if we wish for holy water for certain religious purposes. Inside of the pool there is a small shrine to put the offering.tirta empul
The Tirta Empul Temple includes the traditional Balinese split gate along with shrines to Shiva, Vishnu, Braham, Mt. Batur, and Indra. There is also a large open pavilion in the main courtyard, useful for relaxing in the shade.
Bali day tour to Tirta empul temple in one of the best Bali suggested itinerary