Goa Gajah temple in Kintamani volcano tour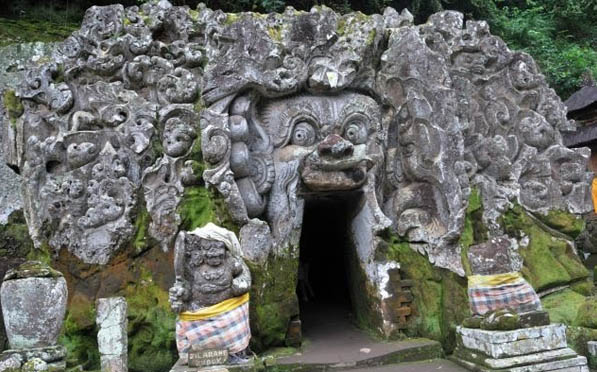 Kintamani volcano tour
Goa Gajah temple is one of beautiful place to visit in Kintamani volcano tour program, best known for its ancient caves that have a carved stone that are distinctively recognizable as being elephant shaped, located in west side of Bedulu village ,Gianyar Regency. It is about 27 km from Denpasar town. It owns the magical energy on the basis of Rwabineda Concept/two different matters on this basic concept hence Goa Gajah (Elephant Cave) is intentionally built among two rivers,Pangkung River and Petanu River. The cave was discovered by Department of Archeology in 1923, and the complex of water spout was discovered by Dr. Krijgsman, a Dutch archeology.
A seven-meters deep cave with a shape of T-letter is the major attraction of this Bedulu village's local temple. The cave it self is carved in a solid stone hill of the river valley. The main figure of the carving at the cave entrance is 'boma', a barong face, accompanied with big clapping fingers on its side. Leaf, flower, and some horror figures can be noticed if we give more attention look to the rest of the carving. Some holes that are considered to be used as meditation or sleeping quarters can be found in the wall of the cave.
Goa gajah temple Bali entrance fee
Nowadays, those holes are used to place offerings whenever there is ceremonies taking place. On the left end side of the cave is Ganesha statue, believe it as 'the God of knowledge'. Meanwhile on the right end side can be found three 'linggas', that each of them dedicated to the three common God manifestations in Bali, Brahma, Wisnu, and Siwa. There are other three stone carvings in the centre wall, one of them figuring head and face. Goa gajah temple entrance fee is IDR 30.000. Before we are going to volcano in bali kintamani we visit Goa gajah temple.
Kintamani volcano tour Bali cave elephants
It was believed to have been built as a temple but the sleeping niches and Buddhist ruins just outside the cave suggest otherwise. Within the cave at the end of the T-shaped passage is a four-armed statue of Ganesha, the elephant-headed deity. At the opposite end sits a set of three lingga, or phallic symbol of Lord Shiva. To the side of the cave's entrance is a 1,000-year-old statue of Hariti, a Buddhist demoness cum goddess. She used to devour children but reformed to become a devout Buddhist and protector of children. Excavations have uncovered a bathing place with six statues of nymphs holding waterspouts. This place can be visited on kintamani volcano tour bali.