Barong and Kris Dance in Batubulan Bali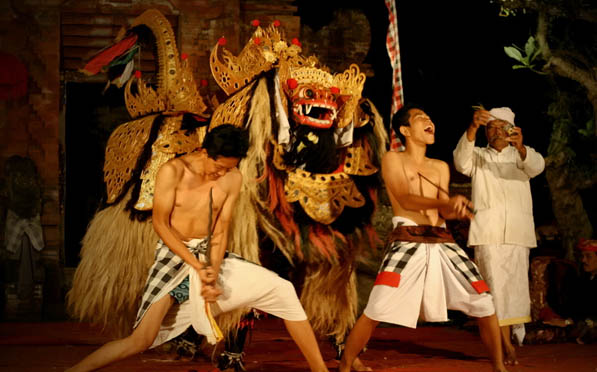 Barong and Kris Dance in Batubulan village
Nowdays Batubulan village is one of tourist places and destination in Bali, it is popular with barong dance and stone carving .It is about 8 km from Denpasar. Batubulan had been known since a long time by the tourists because it's handicrafts namely statues that made of sand stone. It can be seen along the road of Batubulan. You can experiance to watch traditional balinese Barong and Keris dance Batubulan village.
The identity and image as an art village, Batubulan has been famous in Indonesia and all over the world which has been built based on an artistic blessing dance of Barong (Barong and Keris dance). Barong Dance is daily performed at five different stages in this countryside, like Puseh Temple Stage, Tegal Tamu Stage, Denjalan Stage, Sahadewa Stage and Sila Budaya Stage.
Story of Barong and Kris Dance Performance
Barong represents good spirit and looks quite lion-like. He has a red head and his body is covered in white hair. His head is adorned with jewels and pieces or mirror providing sparkle. Despite his innate goodness the Barong mask can still look a bit frightening.
Rangda represents the evil spirit, Barong's appearance is nothing as scary as that of Rangda however She is portrayed as a witchcraft-practising widow. Her looks more black symbolising her evil nature, she has whopping great teeth and when she moves on stage she moves with a creepy gait.
Barong and Keris dance history
The story goes that Rangda, the mother of Erlangga, the King of Bali in the tenth century, was condemned by Erlangga's father because she practiced black magic. After she became a widow, she summoned all the evil spirits in the jungle, the leaks and the demons, to come after Erlangga. A fight occurred, but she and her black magic troops were too strong that Erlangga had to ask for the help of Barong.
Barong came with Erlangga's soldiers, and fight ensued. Rangda casted a spell that made Erlangga soldiers all wanted to kill themselves, pointing their poisoned keris into their own stomachs and chests. Barong casted a spell that turned their body resistant to the sharp keris. At the end, Barong won, and Rangda ran away.
It is said that if Rangda's spell is too strong, somebody can die or get seriously injured in a Barong dance. He may end up hurting himself with his own keris. The masks of Barong and Rangda are considered sacred items, and before they are brought out, a priest must come to offer blessings by sprinkling them with holy water taken from Mount Agung, and offerrings must be presented.
Balinese mythology is often illustrated through dance. Bali's traditional Barong dance is a classic mythical story about good versus evil and provides a fascinating insight into Balinese culture. Batubulan Barong and Keris dance entrance fee is IDR 100.000.
Want to watch Barong dance ? you may choose our full day ubud tour