Bali Temple Tours to Gunung Kawi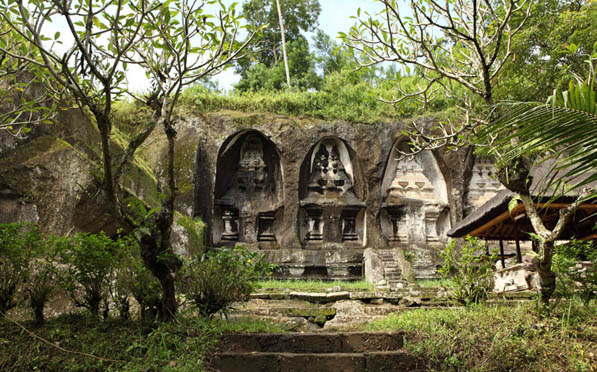 Bali Temple Tours
So many temples in bali one of them is Gunung Kawi Temple which is one of the best Bali temple tours located near Tampak Siring village, around 5 km from well known Tirta Empul Temple. The location is 35 km from Denpasar, city, 50 km from Kuta, and 68 km from Nusa Dua. Gunung Kawi Temple is a collection of ten candi, created to evoke the appearance of temple fronts and designed to provide residence for the souls of ancient kings. The candi are hewn into the valley walls on both sides of the Pekerisan River
What can you find in bali temple tours ?
Gunung kawi Temple Bali is an ancient relic complex consisted of 2 parts:
Temple complex Gunung Kawi Bali is located on one row. The row located in east of Pakerisan River is consisted of 5 temples and west of river consisted of 5 temples scattered on the north with 4 temples and another one situated far away in the south of other temples. The row located in east of river there is a temple set in the north with the Kediri type script on the top of temple says Haji Lumahing Jalu. Haji means king, Lumah means made a temple or Sidha Dewata It means back to the heaven. Meanwhile the word of kIng Jalu means in Pakerisan. The whole means of those words are the king had been made a temple at Pakerisan. It is consider one of the best temples in bali .
Based on that reason, it is believed temple for Udayana King. In the south of this temple right on the top of the second temple existing an inscription say Rwa Nakira which means the second children. Based on those scripts that temple is for both children of Udayana King those are Marakata and Anak Wungsu. Meanwhile the other temples are devoting to the king's wife. There 4 other temples located in south part of this complex are alleged for prime minister or king assistants because on these temple written the scripts says Rakyat (people) those are for the high official of kingdom.
Vihara Complex (Vihara = Buddhist Temple)
Vihara Complex Gunung Kawi Bali is used for a residence and a place for meditation. It consists of several niches, centrally located in east of Pakerisan River precisely in south part of temple complex. The other niches are dispersed and located close to temple complex. One of the niches is a cave located in the northern corner separately with other niches complex, it seems that serve a special niche. In the cave where in the middle of the floor, there is a hole.It is believe that the hole had been used as a place to put the ceremony material in form of Api Homa.
To reach the complex in Gunung Kawi temple, visitors must walk about 600 meters from the parking lot to the ticket counter then walked down on approximately 315 stone steps. Before taking a cross on the bridge at the bottom of the valley, you can see the first stone monument. Another group of stone monument is carved on the left side of the main temple across the river.
Bali Temple Tours to Gunung Kawi in one of the best Bali itinerary