Celuk Village Balinese Silver Jewellery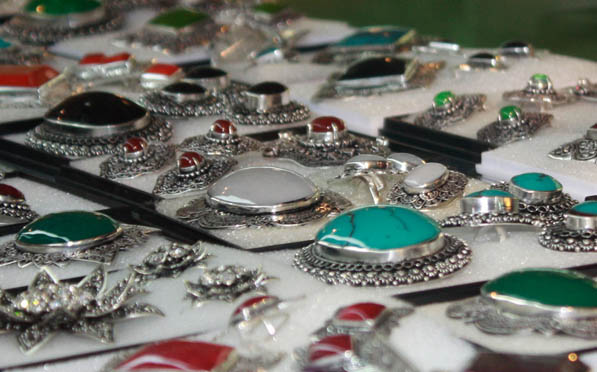 Balinese Silver in Celuk Village
The Celuk Village Bali located approximately 4km southwest of the Sukawati District, is also Bali's major centre for goldsmiths and silversmiths, The main road of Jalan Raya Celuk is lined up with galleries and workshops. If you visit celuk village you will see balinese ornaments (such as : balinese art , balinese silver jewellery) ,  famous balinese painters, balinese artists.  The gold and silver items crafted here are of high quality and feature unique and elaborate designs as the craftsmen are known for their skills .
Almost all of the households in the village are homes to jeweller families and each Celuk villager possesses artistic skills in developing and executing intricate designs and varying patterns. The gold and silver items they produce include souvenirs and mass export items such as rings, bracelets, necklaces, earrings, studs, broaches and many other Balinese ceremonial accessories and adornments.
History of Celuk Village
Many years ago,the dwellers of Celuk Village Bali were mostly farmers. Rumors have it that there were only three families who belonged to the caste of Pande that pioneered this industry. This caste is well-known for their specialty in manipulating all kinds of metals to create accessories for Hindu's prayers. As tourism was becoming main commodity in Bali, more and more villagers left their farm behind and began to learn to craft silver and gold. Specifically, in 1976, almost all of the villagers had become silver smiths and Celuk Village has been popular with its beautiful jewelry and other silver handicrafts since then.
Celuk village balinese silver jewellery
As you enter the Celuk Village Bali, you're going to feel as if you were in a jewelry exhibition. On ether side of the road are established many art shops showcasing their finest works inside a glass display case. You can take a closer look at them to appreciate it and buy some if you like it. Most vendors and smiths usually accept custom made jewelry but you can always ask them to make sure.
Most of them are used to dealing with foreign tourists so their English should be fair enough to promote a conversation. If you're confident enough, you may ask their permission to forge and shape your own jewelries. Some of them might allow you, even guide you how to use the tools properly. Becareful, though, because molding silvers and golds involves fire and fire can burn your fingers pretty badly, not to say your money as well
If you want to see Balinese silver jewellery in celuk village you may choose our half day ubud tour or full day ubud tour