Full Day Bali Lovina Dolphin Tour
Bali Lovina Dolphin Tours is one of the best trip to north coast of Bali, the Dolphin graceful mammal, who love to sneak out to the surface and breath with soft pool right next to boat. Lovina beach is one of the best places for family trip with its famous morning dolphin trip as well as other activities such as snorkeling and sightseeing.Our driver will Pick you up early morning about 03.00 Am at your hotel for full day Tours, we will directly to Lovina Beach to catch the traditional outrigger boat to see Dolphin, after watching dolphin with sunrise view,we will go to see Gitgit Waterfal after that going to visit Ulun Danu Temple, the temple in the lake at Bedugul area and you can get lunch at local restaurant in Bedugul with beautiful lake view. After lunch we are going back to your hotel.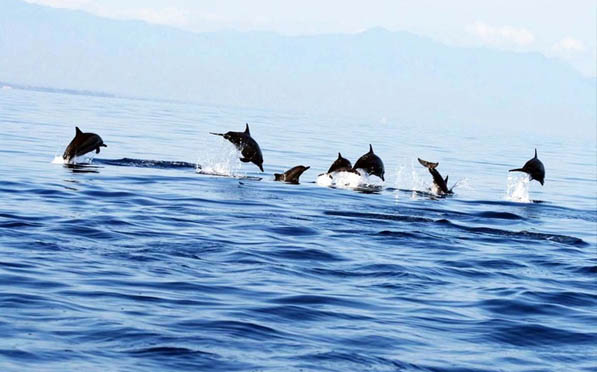 The Places of Interest will be visited on Bali Lovina Dolphin Tour :
Lovina Beach is of the famous tourist destination in north part of Bali with the spectacular of dolphin watching tour on the calm seawater. It is located in the costal side of Singaraja regency with black sand unfolding along the beach area. The calm se water with coconut trees are planted throughout the beach. There are many hotels, restaurants and shops are available on this area that is supporting this area as a tourist destination in Bali.
Located in the plateau area with the height about 35 meters, Gitgit Water Fall is an amazing waterfall from height hill which is encircled by fertile rain forest plantation and surrounded by tropical tree and emits the constantly natural water debit all of the year. This waterfall is situated in the jungle of forest, fresh atmosphere with beautiful scenery of rice terrace are presented on the way to this waterfall. This waterfall produce the clear water with some time the local children play around and having bath. It is located in Gitgit countryside, Sukasada district and Singaraja regency,about 10 km from Singaraja or 70 km from Denpasar.
Ulun Danu Beratan Temple is one of beautiful Balinese Hindu Temples located at Candi Kuning countryside, Baturiti sub district and Tabanan regency. It is about 50 km north side the way from Denpasar to Singaraja. The temple is set at lakeside of Beratan with beautiful lake view and hills surround it. it is also commonly called as Bali temple on the lake or Bali temple on the water because it looks like floating on the water when the water level in the lake is rising. We can find at north side of this temple is Pucak Sangkur mount, in the eastside there is Beratan Mount which also referred as Pucak Mangu or Pucak Pangelengan, in the south side there is Terate Bang Mount and in the Westside there is Tapak Mount and Watukaru Mount.
Bali Lovina Dolphin Tour Itinerary :
03:00 – Pick up at the hotel
06.00 – Arrive at Lovina Beach
06.10 – Using traditional boat to see dolphin to the sea
09.00 – Visit Gitgit Waterfall
10.30 – Visit Ulun Danu Temple
11.30 – lunch at local restaurant with lake view
12.30 – Back to hotel
Bali Lovina Dolphin Tour Price :
Regular Tours Price :

IDR 600k/car ( max 6 person)
Inclusion : Car + Gasoline + English Speaking Driver + Parking fee + mineral water
Inclusive Tours Price :

IDR 600k/person
Inclusion : Car + English Speaking Driver + Entrance Fee + parking fee +Lunch + mineral water
Note:
Minimum booking 2 persons.
Tour duration between 8-10 hours
Get special price for group booking
Regular Tours Price : is a Bali day tours price without include lunch and entrance fee, you need to pay by your own self
Inclusive Tours Price : is a Bali day tours price with include lunch and entrance fee
The tour is Private Tours, means there is no other participant, just only you and your companion
Tour Guide can be requested, contact us if you want to request Tour Guide during the trip Time and Tourism site is subject to change based on your request.