Full Day Tour Gitgit Waterfall Bali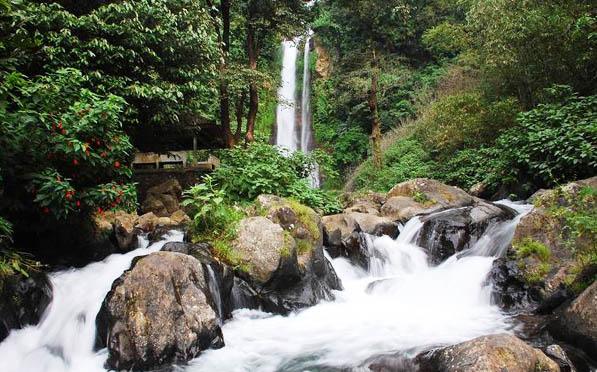 Gitgit Waterfall Bali Location
Located in the plateau area with the height about 35 meters, Gitgit Water Fall is an amazing waterfall from height hill which is encircled by fertile rain forest plantation and surrounded by tropical tree and emits the constantly natural water debit all of the year. This waterfall is situated in the jungle of forest, fresh atmosphere with beautiful scenery of rice terrace are presented on the way to this waterfall. This waterfall produce the clear water with some time the local children play around and having bath. It is located in Gitgit countryside, Sukasada district and Singaraja regency, about 10 km from Singaraja or 70 km from Denpasar. You want to see gitgit waterfall map ? click here
There are many waterfalls with different shapes and heights in Gitgit waterfalls. Halfway along the way the scene changes and on both sides you can see coffee and clove trees. It is amazing experience to walk in this quiet area where the birds singing. The air cool air and gradually gets colder when you approach the waterfall. A short distance from the waterfall, the fine water spray will cool your body. Sometimes the atmosphere will become misty.
The first Waterfall in GitGit Waterfall
is Twin Falls you have to go down a path and stairs to get there.Twin Falls as the name suggests, consists of two adjoining waterfalls. Both waterfalls are not very high,it is about 35 metres but the current is quite swift. Below the waterfall there is a small pond with very clear and cold water. This waterfall is sheltered in a narrow cliff so it is a bit dark. Green trees that surround the waterfall make the atmosphere cool and beautiful.
The second Waterfall in Git Git Waterfal
is a continuation of the Twin Falls. The source water comes from Twin Falls watershed. Thi water fall is sixty metres high and as the water falls, it looks like white clouds falling down the mountain one after another. The falling water almost completely covers the rock face of the fall.
The third Waterfall in Gitgit Waterfall
is called Waterfall Story. You may only see this waterfall from the bridge it is not so high but very beautiful. This clean and clear Waterfall is located under the bridge and covered by trees. You cannot see this waterfall from the front.
To visit the Gitgit waterfall, all visitors will follow the walkway down until the spot point. This road is one of the omissions in Dutch era where the local resident uses it to access other regions. On 1975, this waterfall is opened as tourist destinations in north part of Bali .