GWK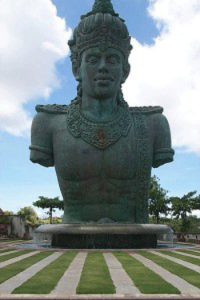 Have you heard about  GWK……? I believe some of you have and some of you haven,t , so It is a good time to see this post.Let me try to give some information about GWK.
GWK stands Garuda Wisnu Kencana. This statue is located in the area of ​​Ungasan – Bukit Jimbaran Bali.It takes approximately 1.5 hours drive from Kuta beach. Located at an altitude of 146 meters above ground level or 263 feet above the beautiful sea level.A lot of performances displayed in this area.
Originator of the idea of GWK is Mr Nyoman Nuarta who wants to build a tallest statue of Lord Vishnu who is expected to become an icon in Bali. In the Tri where Lord Vishnu Murthi, duty to maintain the universe and Garuda as the vehicle of Lord Vishnu is the symbol of selfless devotion .  GWK is a symbol of environmental protection.GWK is built in 1997 and was stopped because Indonesia hit by monetary crisis.
GWK field is often used as a concert venue or company launching in Bali. In the evening, we can enjoy the twinkling lights on the bottom such as Jimbaran, Benoa and Kuta.
It is one of most interesting statue in Bali,so if you want to have a vacation in  Bali put GWK as a place in the list of attractions in Bali and don,t miss it… have a nice vacation in Bali