Besakih Temple Bali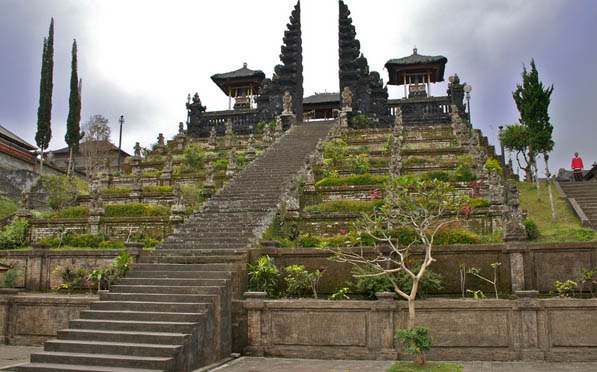 Mother temple of  Besakih
Mother temple Besakih is the largest holy site in Bali and home to the island's Mother Temple, located on the slopes of Mount Agung (3,142 meters). The temple is comprised of 3 main complexes dedicated to the Hindu Trinity. It was built during the late 8th century AD.Rising majestically on the western slopes of Mount Agung, and referred to as the Mother Temple of Hindu Bali, is Pura Besakih, or the Besakih temple, covering a vast area that offers breathtaking mountain scenery surrounding this beautiful and artistic temple complex.
Besakih temple in bali made the world spotlight in 1963 when the temple – thought to have been saved by the gods – miraculously survived a devastating eruption by Mount Agung. Pura Besakih was nominated as a potential UNESCO World Heritage Site in 1995.
The name of Besakih Temple comes from the word of Basuki, the old language from Sanskrit Wasuki, and then it become the Ancient Java Language. The Basuki means congratulation. In mythology of Samudramanthana has mentioned that Basuki is a dragon that twines the Mount Mandara. The omission has come from tradition megalithic which had been indicated that it had to be sanctified place. It seems, the Besakih is coming from very old era which is far before the existence of Hinduism influence.
Besakih temple history
It was said Ancient Bali king of Sri Kesari Warmadewa found the Merajan Selonding Temple in this temple complex area. He also commands to build the Blanjong Monument that is located in Sanur Village. The Besakih Temple complex is built pursuant to cosmos balance. It is based on the nature conception which is disseminating the fundamental temple complex that is arranged to pursuant of the way direction. So, this building can deputize nature as symbolic of the world balance existence
Besakih temple tour
Besakih mother temple is a amazing and outstanding place to visit . Looking at the temple from a distance, you can observe an impressive complex of pyramid-like temples, extending up the mountain, with Gunung Agung providing a dramatic backdrop. The setting looks particularly stunning in the clear morning light, and gorgeous at sunset. Besakih Temple also decorated with Bali-style ornaments, doorstep temple, sacred stone idols, and stone carving. The Besakih temple entrance fee is IDR 20.000.
If you come to have holidays in bali, this temple is one of the best bali itinerary.