Alas Kedaton Temple Monkey Forest Bali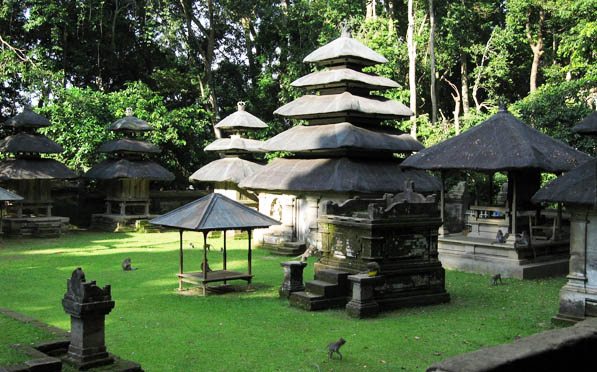 Alas kedaton temple Bali
Alas kedaton temple monkey forest location is in the middle of the rice field, Alas Kedaton is a small forest with the width about 6-7ha in Tabanan regency, west part of Bali. The total size of this forest, temple and its supporter facility is about 12 ha. In this forest, there is a temple called Alas Kedaton Temple and owns the natural environments that is looked green with its fresh air and create the peace, quite and holy atmosphere.
There are tame monkeys in Alas Kedaton and free gallivanting in temple yard, so that the calm atmosphere is sometime solved by noise voice of the monkey, which are playing around and scrambling of food. The monkeys who dwell in this forest, there are jump up and down in temple wall, take a bath in moat or there is also hang out in few leaves representing impression view. The monkey like as custodian of temple, which are always ready to greet all visitor who are paying a visit to this place. You will see also bats and some other animals in Kedaton forest . At least 24 types of grove plant have been identified in Alas Kedaton. Monkey forest bali entrance fee is about IDR 20.000 per person.
Alas kedaton monkey forest Tabanan Bali
The temple ceremony in Alas Kedaton Temple is held once every 210 days or six months Balinese calendar like most of the temples in Bali but the difference is every times ceremony held (at Anggarakasih Medangsia – Balinese Hindu Calendar) does not use fire and penjor decoration, elements that are essential in the temple ceremony in other places in Bali and the ceremony of this monkey forest Alas Kedaton Temple is finished before the sunset or before the night is come while in other temples in Bali the ceremony is usually held until late at night.
The best time to visit Alas Kedaton is in the day time. There are quite a lot small shops selling the handicraft as souvenir, for example clothes, pants and other handicrafts, In front of Alas Kedaton temple. Others, there are some shops booth selling food and beverage, toilet and park area which is wide enough.
If you want to see Alas kedaton temple monkey forest Bali you may choose our half day Alas kedaton temple  or full day Alas kedaton temple