Tanah Lot Sunset Tour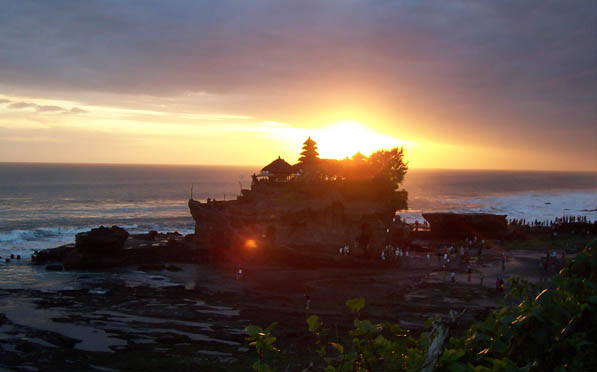 Tanah Lot Sunset Tour is one of the famous a tour destination in Bali.
Tanah Lot Temple is one of Bali's most important landmarks, every body knows for its unique offshore setting and sunset backdrops. An ancient Hindu shrine perched on top of an outcrop amidst constantly crashing waves; Tanah Lot Temple is simply among Bali's not-to-be-missed icons.
Tanah Lot temple location
Tanah Lot temple Bali is one of the sad Kahyangan or six most holy temples for all Bali as well as for Tabanan district. It is located in the Beraban village of the Tabanan regency, an approximate 20km west of Denpasar, and is considered one of the best tours to Bali's western and central regions. See tanah lot temple map below..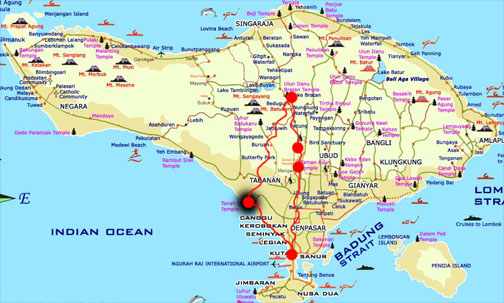 Tanah lot temple history
The location of Tanah Lot temple had been used in the megalithic era as secret place by evidence of the Menhir existence. Since there are the Hindu religion and culture influences Bali Island from 8 century by existing a phallus on Tanah Lot, hence it can be said that Tanah Lot had existed a secret place to worship the Siva God. Like so many other temples in Bali, Tanah Lot is connected with famous brahman priest ,Dhang Yang Nirartha ,who wandered from Java to Bali in the 16th century, he had built a Tanah Lot Temple without abandoning tradition that was existed before. Before this Temple is built, he felt the vibration of holiness and spiritual protection that is called Jiwan Mukti.
Tanah lot temple entrance fee

When you enter tanah lot you will have to pay entrance fee, tanah lot temple entrance fee is IDR 30.000 per person.
As one of the famous tourist destinations in Bali, Tanah Lot has been developed professionally into an international standard tourist destination by providing complete public facilities and security services including life guard. The complete facilities are provided includes toilet, parking area, Bale for resting, paging system, cctv, souvenir shops, restaurants, hotels, food and drink stall.
Tanah Lot is particularly reminiscent at sunset when the illumination, at times a slender thread and others, a dazzling spark, springs back the waves. The beach around Tanah Lot is less comfortable for swimming but great for horse riding and watching spectacular sunset. Although surfing can be done in this area but it's recommended not for beginner.
If you want to see tanah lot temple you may choose our half day tanah lot sunset tour or full day
tanah lot sunset tour