Sacred Ubud Monkey Forest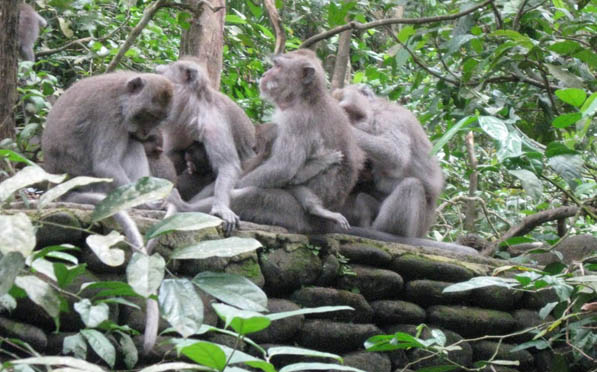 About monkey forest in Ubud
Ubud Monkey Forest is a small rain forest dwelt by some group of monkeys and other tropical animals. It is strategically located in the hearth of Ubud Village.
Monkey Forests in Balinese language called Wanara Wana are spread out in the island and Ubud Monkey Forest itself own very important function of the continuity the monkey habitat in Bali. Meanwhile the local community own important role to keep this forest naturally in order to all wild animals able to live smoothly.
Monkey forest Ubud location
Ubud Monkey Forest is located on the southern border of Ubud town around 3 kms south of central town. The site can be reached by many sides besides from central town of Ubud, from eastern corner of Ubud and from southern area of Ubud.
The distance from Kuta is around 55 kms, from Sanur around 40 kms, and from Nusa Dua area around 65 kms.As one of most interested place in Ubud,you will see the group of monkeys within the forest are not too naughty and harmful ; however you are advised not to wear sunglasses as they sometime steal the visitors' sunglasses. Inside the forest, there is also the largest holy and revered temple named the Pura Dalem Agung. The other two temples found within the area are called the holy bathing temple and the Pura Prajapati.
Monkey forest ubud entrance fee
Ubud Monkey Forest is one of important ecological preservation in Bali,please enjoy the beauty and magic of this place. while at the same time respecting what lives in it. If you have any question or if you should need assistance, please asked the Wenara wana personnel ( normally identified by their green uniforms ) or a member of the research project. Monkey forest ubud entrance fee is IDR 20.000