Bali Day Tour Royal Palace Ubud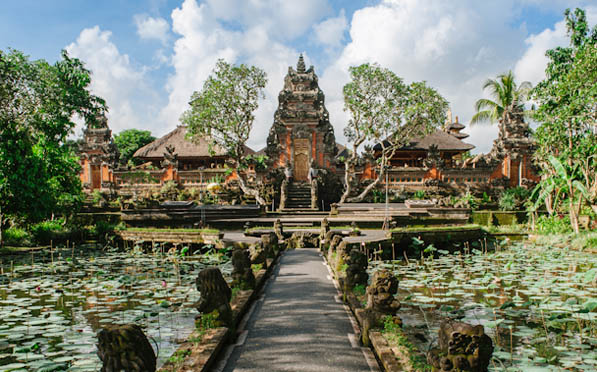 Ubud water palace
Puri Saren is an Ubud Royal Palace situated in the heart of Ubud Village and became a famous tourist destination the Founder of Ubud Kingdom who led the kingdom from 1800 – 1823 was Ida Tjkorda Putu Kande is. This palace is a center of art and cultures while the market which is just in front of it as a center of local community's economy.
Ubud has been a "royal town" for over a hundred years. Its princes, who bear the title "Tjokorda" or "Agung" still live in traditional palaces, called "Puri". Be aware, however, that every place called "puri" is not a royal palace. Lately the word has been used quite liberally .
Royal Palace Ubud history
Also be aware that there is not one palace in Ubud, but many, most of them clustered around the main cross-roads near the Ubud market. A web of connections is maintained by incidental and arranged marriages among the respective offspring of princes in Sayan, Pejeng, Singapadu, Peliatan, and Payangan's puri.
Royal palace ubud or Puri Saren Ubud can be reached an approximately one hour drive from the provincial capital of Denpasar. Many visitors find the palace a convenient stopover, as it is strategically the centre point of Ubud, with the Ubud Art Market, various local and some international restaurants just steps away along the main road Ubud.
Things to do at Royal Palace Ubud
The tourists who are visiting Ubud should visit Puri Saren and traditional art market, because both of this tourist objects are the soul and identity of the Ubud Village. Puri Saren is a center of Ubud Empire has started the tourism life in Ubud especially and Bali generally. The beauty of Royal Palace Ubud supported by the good temperature that can give the coolness and comfortable for every visitor includes the artist from Europe.
Many artists such as Rodolf Bonnet, Walter Spies, Arie Smith, Antonio Blanco, Han Snell etc has visited and stayed in Ubud .They indirectly promoted the Bali's tourism because the theme and object of their paintings are the cultures and nature of Bali.