Bali Art Painting Batuan Village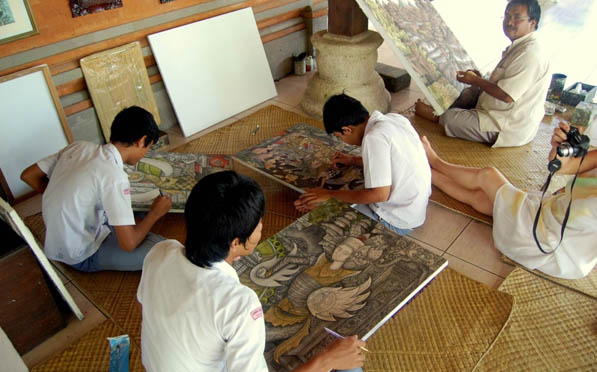 Bali Batuan Art Painting 
Located about 7 kilometers north of Denpasar about and 10 kilometers south of Ubud, Bali art painting Batuan Village is one of the most famous Bali tourism destinations popular with center of Bali arts focus on painting. Batuan Art Painting have brought the Balinese arts to be more and more famous. Painters from the village have been known since the 1930s for their dense, immensely detailed paintings of Balinese ceremonies, bali dancer painting,daily life, and increasingly, "modern" Bali.
In the past the Batuan art painting artists used tempera paints; since the introduction of Western artists materials, watercolors and acrylics have become popular. The paintings are produced by applying many thin layers of paint to a shaded ink drawing.The palette tends to be dark, and the composition crowded, with innumerable details and a somewhat flattened perspective. Batuan painting represented in the catalogue are paintings of Balinese scenes encompass the sacred as well as the mundane.
Bali Batuan Art painting gallery
Known as Bali Painting Gallery, Batuan has different style with other place in Bali,in perspective, Batuan paintings more dynamic than the Western painting. Batuan painting no focus. For all objects appearing simultaneously. Nothing to do with time. Or like being out of time. The objects of Batuan art painting such as fragments that were just taped a piece of canvas,but the most important thing is these all bali paintings for sale and bali dancer painting is one of the best to buy.
If you have a plan a trip to Bali to see Batuan art painting you may choose our Ubud  Full Day Tour or Kintamani Volcano Tour.