Day Trip to Batuan Balinese Temple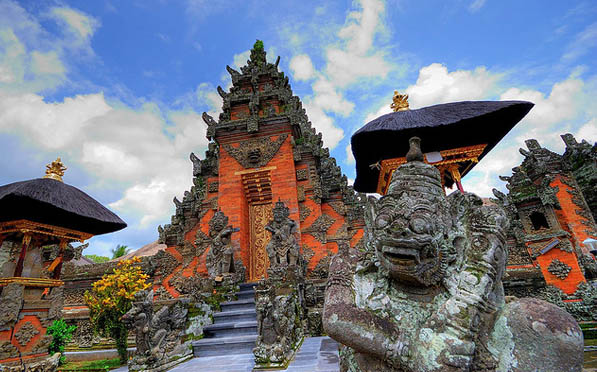 Batuan Temple Gianyar Bali
Batuan Temple Bali is one of the most beautiful Hindu temple located in Batuan Village, Sukawati District and Gianyar Regency. It is just 25 minutes away from Denpasar City or Ubud Village or 30 minute from Gianyar town. It is a local village temple and a part of three major temples in a village that is called Tri Khayangan.
Batuan Temple is beautifully designed with Balinese architecture and antique Balinese ornaments décor entire temple building including the entrance gate. As common temple in Bali, Batuan Temple is also featured by the three areas includes Nista Mandala (outside area) Madya Mandala (Middle area) and Utama Mandala (Main temple area)
Day Trip to Batuan Balinese Temple
At temple parking area, there is an ancient building called Wantilan, this place use as a meeting hall and to practice any kind of Balinese dances as Gambuh Dance, Pendet Dance, etc. Before entering the temple there is some local people at Wantilan will lend you 'kamben' (a traditional Balinese costume). It is a must for you to wear 'Balinese kamben' to show your respect and honor about the holiness of temple. It's all free, you won't be charged for entrance.
However, the local people expect every tourist who visited to this temple can donate in any amount of money to support the maintenance of the temple. There is provided a simple donation box. Every donation that you give should be based on a sense of sincerity, where Balinese people know it is called "medana punia".
In the middle yard of batuan temple bali there is a long building / bale called the Bale Agung and Bale Kulkul (a gong mad by wood or bamboo). Also you will see a high entrance Balinese Gate called the Kori Agung, which is flanked by the many guardian statues shaped the giant sculpture. The function of Kori Agung is the door where the exit and entry for the gods symbolized by a small statue called Pratima. Next to the Kori Agung there are two small doors as a place of exit and entry of people into the temple's main yard.
In the main yard of the Batuan Temple Bali there are some three story Meru and Bale Pengiyasan as a symbol of the temple of Besakih, there is also a building called Padmasana as a place of worship to Sang Hyang Widhi, the only one Bali Hindu's God.
The temple festival is annually conducted every six month according to the Balinese calendar and entire local people come to this temple to worship to the god.
If you want to have day trip to Batuan Balinese temple you may choose our half day Batuan Balinese temple tour or full day ubud tour