Balinese Wood Carving Mas Village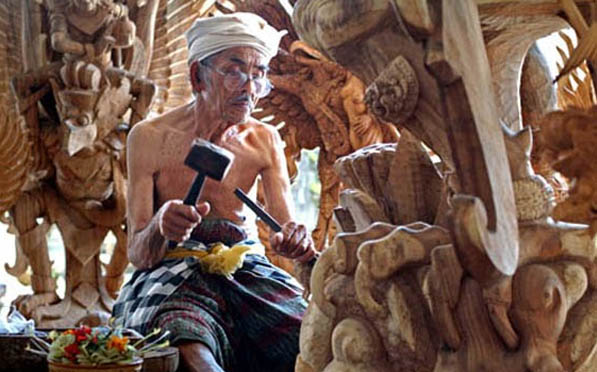 Bali wood carvings location
Located about 10 km from Ubud town, Mas Village is one of the tourist resort in the Regency of Gianyar. This village is famous for it's wood carvings which made of local wood or ebony wood that is imported from Sulawesi. Mas Village is one of bali wood carvings villages in Bali fundamentally identified as an artistic countryside by focusing in artistic of wood carving
The famous wood carvers here are the late Ida Bagus Nyana and son Ida Bagus Tilem. Along the road we can find a lot of art shops that sell many kind of wood carvings. On the left or on the right of the road we can also see rice fields, so we can make conclusion that the live of Mas people not only as wood carvers but also as farmers.
Balinese wooden statues village situation
Bali wood carvings mas village are not different with other people in the tourist destination village in Bali, where they have undergone a transformation from the agrarian to the craftsmen societies and now continuing to the societies of both trade and procurement of souvenirs for domestic and foreign tourists.
Although the principle identity of Bali wood carvings village is sculpture, it is now also developing several tourism objects and attractions that have enriched the fascinations of this village. One tourism object and culture attraction with huge potential and importance in the northern of the village is Rudana Museum, one of the monumental museums about Bali's art especially painting. This museum has many collections, distinctive and collected the various of art.
Are you looking for Bali wood carvings wholesale ? Mas village is the best place to visit with Bali Spartan Tour.